Hydraulic Hose
Industrial Hose and Fittings
Belts and Pulleys
Chain and Sprocket
Bearings and Seals
Maintenance Products

F. B. Harris Corp.
190 Locust Street
Lynn, MA 01904
CALL: 800.800.8979
MA: 781.592.6270
Fax: 781.599.6160
[sales@fbharris.com]





Maintenance Products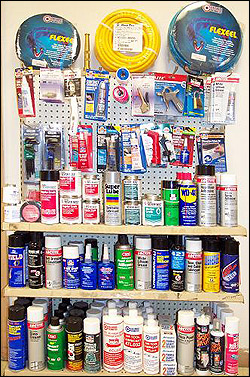 When our customers visit us at F.B. Harris they are certain to find exactly what they need–from industrial hoses to repair services for parts in addition to basic maintenance products. We carry a large inventory guaranteed to suit your needs, which also includes the following:

LUBRICANTS (oil and spray)

Oil and spray lubricant products from manufacturers such as Plews/LubriMatic™ Superlube and Never-Seez in addition to lubrication equipment such as grease guns & fittings.



CLEANING AGENTS (hands and parts)

Fast Orange and a wide selection of cleaners, degreasers, detergents and abrasives available in a variety of forms such as aerosols, gels, liquids, and powders.



SEALANTS

Numerous products offered to include all-purpose sealants for common building products, silicone sealants, and asphalt sealants with excellent weatherproofing ability, to name a few



ADHESIVES/ EPOXIES

Products from manufacturers such as Permatex and Loctite available in a wide range of bonding applications for automotive and industrial purposes; and
Never-Seez® compounds such as regular grade and nuclear grade anti seize



SILICONES

Products available in sprays and gel for a variety of application needs for both industrial and consumer use.
F.B. Harris also carries other maintenance products which include:
Air-Loc Vibration Mounts
Gasket Cutters & Tools
Keystock (square and woodruff)
O-Rings & Kits
Safety Products
Sheet Rubber
Wear-Flex Slings (nylon & rope)
Made-To-Order Services
Are you in the market for a band saw blade? We also have the in-house capabilities to offer Lenox® Band Saw Blades (made-to-order) for professional and consumer use. Our staff will assist you to ensure that you choose the proper blade size.

So remember to think of F.B. Harris for all your maintenance product needs—from O-Rings to wire rope. We look forward to servicing you in the near future.


Hydraulic Hose | Industrial Hose and Fittings | Belts and Pulley's | Chain and Sprocket
Bearings and Seals | Maintenance Products | Distributor Site Map


Lynn, MA Website Design Development
F.B. Harris Corp. is a full line distributor of industrial hydraulic, hoses, fittings, belts, pulleys,
chains and sprockets throughout Massachusetts, New Hampshire, Connecticut,
Rhode Island, Vermont, Maine, NY, New York, New England and all of the USA